Philipp Stehr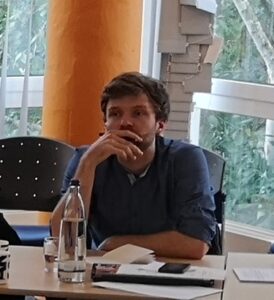 Philipp Stehr is a PhD researcher in the "Corporatocracy" project, working on the question if and under what conditions we can justify the corporate form in a democratic society. Besides his project he is interested in political and social theory, especially where it concerns the economic sphere. This includes areas such as philosophy of economics, social ontology, theories of social order, and the political theory of the market. Philipp also has a research interest in Critical Theory and the Frankfurt School, especially the foundational works from the 1930s and the conceptions of interdisciplinarity and the relationship between empirical research and theory therein.
Before coming to Utrecht, Philipp completed his MA at the Ruhr-University Bochum in "Ethics – Economics, Law and Politics". In his thesis "Corporate Moral Agency on the Market – What Corporations Can and Cannot Do" he argued that, due to certain limitations imposed by the market, corporations are unable to act morally. In 2017 he received his BA in Philosophy with a minor in Business Studies from Goethe-University Frankfurt.
You can find more information on Philipp's university page (https://www.uu.nl/staff/PHStehr) or reach him via email (p.h.stehr@uu.nl).